Back To Menu
Chicken Fried Steak
Tenderized steak dredged in our seasoned flour and fried golden brown then topped with country or brown gravy
Gravy (Select 1):
Country
Brown
Sidekicks (Select 2):
Baked Potato
+$1
Mashed Potatoes
Queso Sweet Corn
Green Beans
Fried Okra
Sweet Potato Fries
Mac & Cheese
Steamed Vegetables
Steak Fries
Grilled Asparagus
+$1
Have you tried this item? Pop it!
Help other diners know what to expect by sharing your experience.
13 people have popped this item
Photo Gallery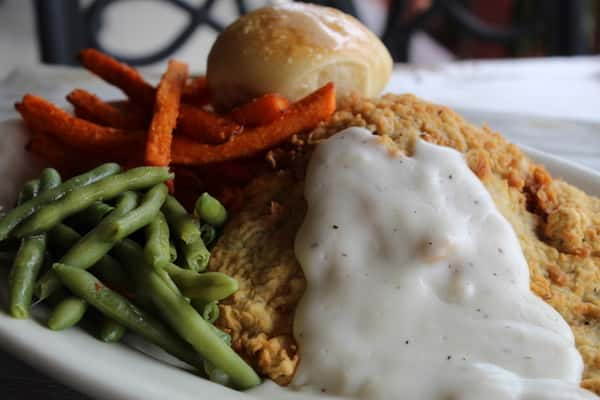 Back To Menu
Chicken Fried Steak
Tenderized steak dredged in our seasoned flour and fried golden brown then topped with country or brown gravy
Gravy (Select 1):
Country
Brown
Sidekicks (Select 2):
Baked Potato
+$1
Mashed Potatoes
Queso Sweet Corn
Green Beans
Fried Okra
Sweet Potato Fries
Mac & Cheese
Steamed Vegetables
Steak Fries
Grilled Asparagus
+$1
Back To Menu